In a rare bout of bi-coastal love, New York City warehouse scene champions Cityfox, known for heavy-hitting lineups of techno and house amidst game-changing production, made its debut in Los Angeles last weekend. With a lineup spearheaded by Dixon and Adriatique and supported by a strong cast of local LA DJs and promoters, it was massive night for American dance music and even exposed some fresh potential for LA's vast, but stifled Warehouse District.
The party was held at a post-apocalyptic industrial building site on the periphery of Downtown Los Angeles, paying homage to the warehouse district's 30-odd year history of throwing clandestine raves. Amongst the distressed brickwork decorated with wildstyle graffiti and huge works of graphic street art, the space looked like it could have been nestled between squats in Kruezberg, and the funky, art-haus techno set from Berlin heavyweight Dixon really hammered home those Berliner vibes.
The booking was very keenly done on the part of the organizers, staggered acutely across three distinct stages to keep you shuffling around all night. By bringing in scene staples like Culprit label heads Droog, local underground promoters MD and Mikey Lion and Deep Jesus of Desert Hearts they gave a big nod to the local talent that has been integral in invigorating LA's scene of late. Frequent Cityfox performer Bedouin brought his Lazarus-inspired desert cuts, while fellow Burning Man staple Atish opened up "The Cube", a trippy warehouse sauna that kicked off after the main stage closed at 10:30.
Dixon and Adriatique were the real draws for the party and both stayed true to their reputation for pushing the parameters of techno further than many others in the genre. The Innversions boss took over from Bedouin just as the sun disappeared behind the downtown skyline and as the crowd was getting a tad weary of the ethnically ambiguous monk chanting samples that pepper his bouts of minimal, immersive ket-tech.
Dixon promptly reset the tone (surprisingly opening with a remix of crooner Chris Isaak of all people), one that put the brand new KV2 VHD single-point speaker system to work to a backdrop of brain melting 3D mapped visuals. He went on to drop a masterclass in technical DJing that never forgot its intention to keep the crowd constantly moving. There are those who criticize Dixon for lapsing into static and rote pacing, but his set totally invalidated any such talk. It was riveting from start to finish and was always abstract, yet strictly dancefloor informed.
Later that night Adriatique closed The Cube with some deep, ferocious techno. Visuals specialists Projektil flew out all the way from Austria to set up The Cube's multi-layered projections, and a massive disco ball in the center of the room shot out beams of light into the distance. Many wide-eyed revelers were found staring at the ceiling as they danced like they were at an observatory laser show.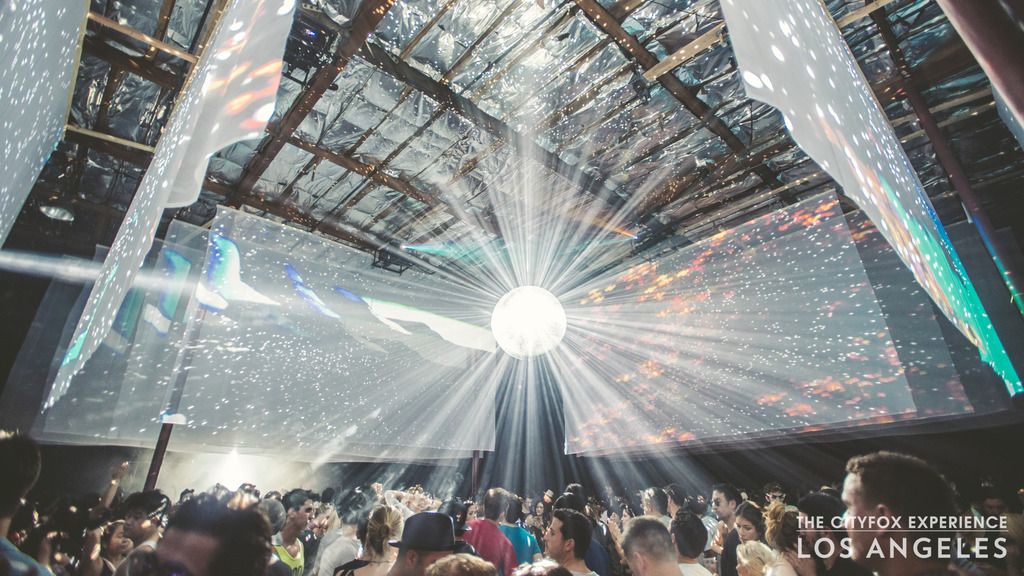 Cityfox organizers enjoyed their first taste of LA's notorious city-level red tape that is a migraine to many legit events when the curfew for the event was pulled back from 4AM to 2AM at the last minute. But with Dixon beginning his set at 7PM, we were left thinking, if seven hours of raving aren't enough, nine hours probably wasn't going to cut it either.
This was such a good party that we're tempted to call it a festival. Three stages, as many bars, next-level production, food trucks, 2AM curfew, and a steeper-than-usual entry fee elevated Cityfox LA from the usual, delightfully grody warehouse party template and really explored potential of LA's downtown area for potentially throwing legitimate, multi-venue warehouse parties.
And to Cityfox we say; Brooklyn and Zurich are about to plunge into another dark and bitter winter. Why don't you just stick around in LA for a little while longer? Please...
--
Images via Skyler Greene/The Cityfox Experience