Whether you know him for his thumping party sets or his freaky booty bangers, anyone with a fleeting acquaintance with Sacha Robotti knows that he's got an uncanny knack for twisting and bending melons on dance floors. Since emerging in 2007 as one half of deep house darlings Robosonic with the strung-out heater "Worst Love" on OFF Recordings, Robotti has been featured on revered imprints such as Suara, Toy Tonics, Klasse, and perhaps most notably of late, Dirtybird.
The last year has seen the Belgian form close ties Claude VonStroke's SF label and drive his status as one of the most buzzed regulars on the West Coast festival scene. His roots in European deep house and tech have made his shift towards CVS' patented booty house so damn appealing, and since relocating to LA he's emerging as one of the most perpetually interesting rising heavyweights on the scene.
But what we didn't know is that Robotti has a deep seated love of sloths. "Sloths are my spirit animal and I love them—not only because they look hilarious and furry and seem to have smiles on their faces, but also because they are rare and endangered—like me," he explained to Insomniac last year.
Contrary to his high octane DJ sets, Robotti makes sure to decelerate once in awhile, take it slow, and enjoy the ride. Ahead of his latest EP release, we decided it was time to slow things down and mosey around the Wildlife Learning Center with the "sloth robot" himself.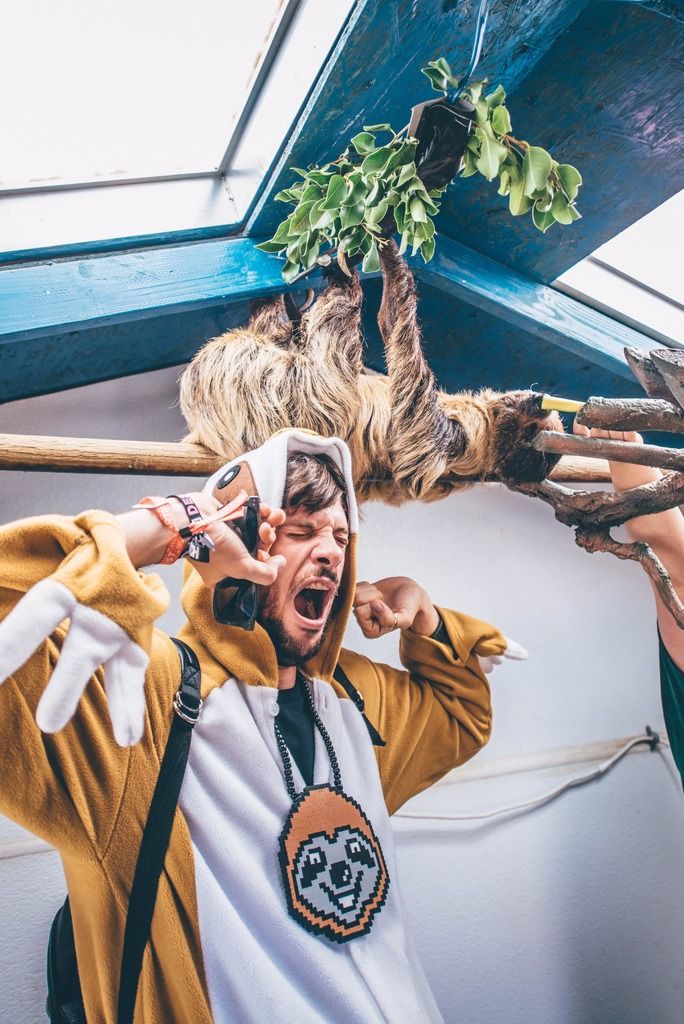 After we tried to strike up conversation with the parrots and ogled over some monkeys, they huddled us into a small room and introduced us to a sleepy little fella named Sid the Sloth. Though we only got a few moments with Sid, who managed to artfully nap through 90% of our visit and eat through the other 10%, Sacha's face was akin to one of these sleepy little tree huggers getting his chin fondled. It was like watching your 5-year-old niece finally meet her favorite princess at Disneyland, matching costume and all.
So that was fun! How do you feel now that you've met your sloth soulmate?
Yeah, that was great! I'm very much in love, still, with Sid… the gay sloth. [laughs] It's definitely been a goal of mine to meet a sloth!
I guess you can check that off your bucket list now
Well, yeah—I didn't get to hold him though, so I'll probably try to meet another one and hold it in my hands. My day will come… but this was great, great, great.
So, music. Melato Nina is a curious name for your new EP.
It's related to melatonin, the sleeping hormone. It basically captures the feelings I have when I travel to different countries, to different time zones… Just the overall mood from being jet lagged, maybe even being a little depressed. Also from leaving Europe—or just leaving something behind.
Your sound has really changed since those early releases on Dirtybird. Have you been consciously shifting in a new direction?
I still like everything that I did back then, but for Melato Nina, this is my first solo EP. I've done collaborations with Kill Frenzy, Claude VonStroke, Look Like, Kevin Knapp, Justin Jay, and now it was time for a solo project. I was actually surprised that VonStroke picked the tracks he did, because they're quite emotional in a way…Not that Dirtybird isn't emotional, but for me, it was a great surprise—a very pleasant surprise. In terms of how my style changed for this release, I guess it's a bit more emotional... Not that I got more emotional, but when I make music, it's about what I'm feeling at that moment.
You've been in LA for a year and a half now… What do you miss most about being in Europe and the club scene over there?
I don't really miss the club scene, but I do miss the closing times. It's just more relaxed because they're longer so you have more time—you don't have to get wasted within like two hours [laughs] and you can go out much later. In terms of Europe in general, I just miss my friends. The mentality sometimes and the culture is a bit more like mine…it's just very different to here. People have no clue where, for instance, Belgium is. Here it's kind of mixed—with all different cultures—I mean not really, but kind of!
Would you say your fans in the US are different from those in Europe?
Yeah, for sure. The fans here are way more active… like look at this sloth thing they made me! [pointing at the 'Sloth Robotti' necklace] They're very dedicated and they're not afraid to make fools of themselves. I love it, it's very funny. They interact a lot more than the people in Europe, where there's more distance.
If you were to go back, what are some things you'd miss about LA?
Definitely my good friends that I have here now. Some of the food, like the ramen. I haven't been able to eat it as much lately, but I love ramen.
After a long string of shows, what's your go-to method of recovery?
Hanging out with my girlfriend, but lately we're so busy we haven't been able to as much. I just like sleeping and chilling…
Kinda like a sloth!
[laughs] Yeah, like a sloth! Maybe watching something, going to the beach, going somewhere there's nature, just getting away from the city and putting myself in the right mood. Because after a string of shows, chances are I'm a little [slumps down in his seat]… Even with so many gigs I like to give a lot of energy, so once I come back I'm a little depressed. Cranky, tired, you know, that hangover. It's all that at once, plus, you don't have that high anymore of being on stage. So it's like depression—the negative, like yin and yang. So to balance it out, you do something that makes you feel good, you know?
Yes, totally get that. So you won't be at Coachella this year, but are there any other festivals you're really looking forward to this season?
Yeah, I'm off the next two weeks—which is awesome, because I had a pretty chaotic schedule lately—but I'm excited for Splash House! I've never been. EDC will be fun too. And I'm playing… I don't even know my calendar! [laughs] But I have a huge fall tour coming up, like HUGE.
That's exciting! Will you be touring with anyone else?
It'll be just me and some other people maybe, but it's going to be my first own tour.
We haven't seen too much from you in regards to Robosonic - are you taking this time to focus on your solo work?
Right now, yes. That's why I moved here, I want to make it here. I want to be able to live well one day. Not that I don't live well, but I want my own house, car, all these material things, but it's like… security. Or maybe I don't even want that, but I would like to be able to know that I can have that, you know? I want a family… those are my goals. I came here with nothing and I have to work for it to get it.
Maybe you could have a pet sloth in your home - what would you name it?
Maybe like Speedy Gonzales.. Maybe a cool weed strain, but I don't know of any right now. Sleepy is a classic, Turtle… Tom… I don't know! I think I'd have to meet him first.
Sacha Robotti's Melato Nina is out now on Dirtybird.
All Images by Juliana Bernstein/Get Tiny