This time of year, festival lineups are a dime a dozen, and it's a struggle for even the bigger festivals to carve an identity out for themselves as you often find the same acts from bill to bill. FYF Fest in Los Angeles, though, a plucky little indie fest that's grown into a regional powerhouse, often stands out with diverse, expansive, and creative lineups. This year, though, they might have just perfected their method.
2017 marks the festival's first 3-day run in the City of Angels since its humble, one-night beginnings at storied LA club The Echo back in 2004. FYF has built a steady reputation for bringing under-the-radar, high quality acts to the table; their tastefully curated lineups seal the deal for music elitists who couldn't care less about what's hot in the Top 40, but also includes the buzz bands and big names to fill up their pop quota.
No longer just a local niche festival for the punk revivalists and indie rockers of the underground LA indie-rock scene, FYF adapted to the splintering of the various segments of counterculture by doing the opposite of what they started out doing: making way for a broader, more inclusive musical offering. Not only is the lineup this year diverse in genres, the roster features artists of all backgrounds, from minorities to female-fronted acts. Björk, Solange and Missy Elliott top the bill as some of the most powerful headlining women in circuit today. They made sure not to skim on the hip-hop/R&B front, filling the lineup with both old legends and new up-and-comers like Missy Elliott, A Tribe Called Quest, Frank Ocean, Solange, Run the Jewels, Anderson .Paak & the Free Nationals, Majid Jordan, Kehlani, Joey Purp, and Kirk Knight.
This does not mean they've completely ditched their alt-roots—the rock purists and OG FYF-ers—those who defiantly insist on referring to it by its original name, Fuck Yeah Fest, can still have their fun in the pit with acts ranging from NIN to Blonde Redhead, Iggy Pop, Cherry Glazerr, Ty Segall, Sleep, Thee Oh Sees and Cap'n Jazz. It seems that FYF books acts from the cool kids table, no matter what the genre, and there's old stuff, new stuff, surprises, and homegrown heroes from every part of the musical landscape.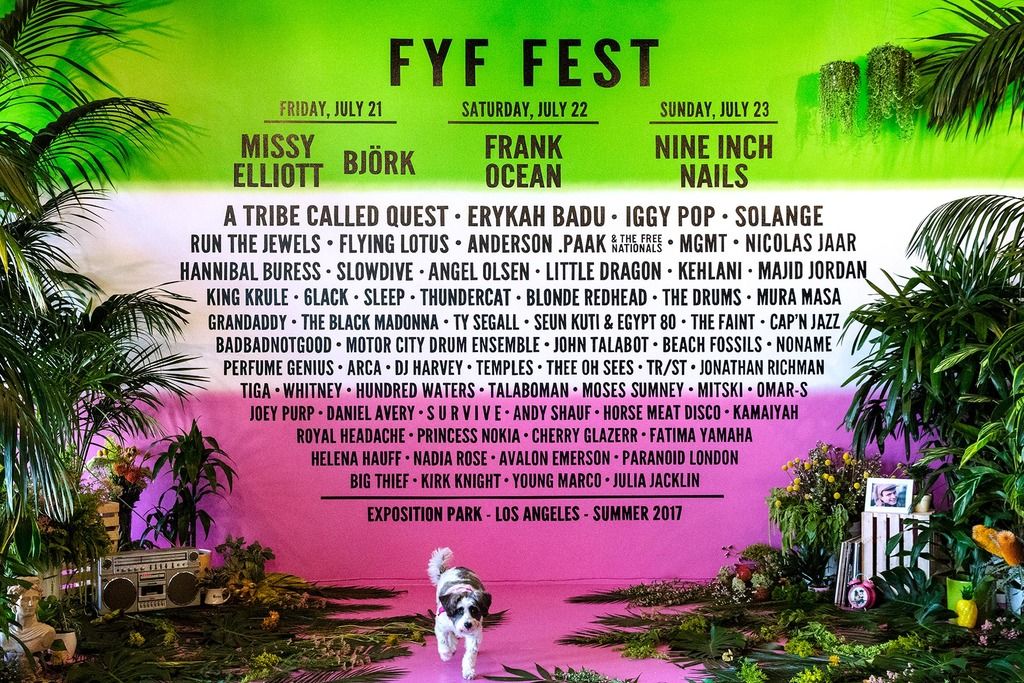 On the dance music front, FYF cleverly avoided the EDM wave at all costs in the preceding years, instead launching a tradition of hosting some of the most eclectic electronic acts in the world over the last few years. Returning to the stage will be tried favorites Black Madonna, Nicolas Jaar, DJ Harvey and Horse Meat Disco. Joining the ranks this year will be power duo Talaboman, Motor City Drum Ensemble, Tiga, Paranoid London, Omar-S, Young Marco and Fatima Yamaha.
FYF veteran Mikal Cronin, who's performed as a solo act and as part of Ty Segall's band, notes that the diversity this year "makes it way more interesting as an audience and as a band… Especially now, when we need to support everybody more than ever."
Its choice of left-field artists across all popular genres has proven a winning tactic for the festival year-after-year. Part of its initial appeal has been its DIY, hometown hero sort of vibe, but through its creative expansion naturally comes steeper prices, with single day passes starting at $125 and weekend passes at $299. But whereas Coachella, the closest omni-genre mega-fest in the same neighborhood, goes for glitzy names and legacy acts, FYF somehow manages to make every booking come off as an act of underground loyalism, while totally opening up the boundaries of the programming. Now, you can go from The Black Madonna to Missy Elliott to Nine Inch Nails to fuckin' Slowdive. Even Coachella would struggle to provide such incisive booking, even with greater spending power.
Hold up, though, that doesn't mean that FYF Fest is the perfect experience. Logistically, it can be a clusterfuck getting in and around, and at times, the vibe of the jaded LA audience leaves something to be desired, but the sheer quality of the booking is enough to ensure a transcendent moment or two every year.
The event will run from July 21-23 at the Exposition Park. Tickets go on sale Friday, March 24 right here on their official website.
Cover Image by Sean Gutierrez