It's now been three months since the heartbreaking Ghost Ship fire in Oakland that claimed the lives of 36 individuals and shook the stateside underground community to its core, which is apparently exactly how long it takes for the vulturous hands of Hollywood to take a very real tragedy, twist it into the storyline for a TV show, and wring out the tragedy for profit.
NBC series Chicago Fire has decided to base an upcoming episode off of the accident, crassly titling the episode "Deathtrap." Created by Law & Order producer Dick Wolf, "Deathtrap" features a storyline that is almost identical to what happened at the Ghost Ship warehouse. The network changed up a few details from the incident, adding in three more deaths and changing the setting to Chicago, but the parallels are still unmistakeable. Here is how they described the scene in their casting call:
"GHOST SHIP" — Seeking Men & Women 20s-30s to play rave party goers. Types can range from edgy/artsy to bohemian *DISCLAIMER* This is A VERY ACTIVE SCENE that entails running and screaming as party goers try to escape a warehouse fire. THIS WILL BE USED AS SURVEILLANCE VIDEO FOOTAGE in the episode. Please do not submit if you are not comfortable with the level of physicality or any other aspect of the scenario. This is a double duty shoot, where you will work in the memoriam scene first and then move on the the party/fire scene.There MAY be use of a light smoke/fog effect in the fire scene, so let us know if you are not comfortable with that.
Francine Orr / Los Angeles Times
This wouldn't be the first time—and won't be the last—a real-life incident has been used for entertainment purposes; though it is commonplace for procedural dramas to approach plot lines in a "ripped-from-the-headlines" manner, this has crossed the line in more ways than one. 36 casualties and hundreds of lives affected by the accident is not something to capitalize on, especially so soon after the event.
Eric Bateman, a local musician who lost two of his closest friends and bandmates Chelsea Dolan and Travis Hough in the accident, tells San Francisco Magazine, "This is horrible and tasteless. To think about them filming actors as extras pretending to be our friends running for their lives while they're in a fire, that's horrifying."
Labeling the victims as "rave party goers" in the show is not only inaccurate, it is strikingly insensitive and puts even the well-planned and safe events in a bad light. "It was a night of music, it was underground, and it was a lot of independent, self-promoted artists," Bateman says. "A lot of people there had probably attended raves, but this was not a rave."
Beyond the sleaziness of wringing profit out of tragedy, NBC's move continues an unfortunate trend of misrepresenting underground party culture as a den of vice. Not only is the move morally unsound, it will inhibit our community from regenerating by discoloring the mainstream perception of what we actually do in those warehouses.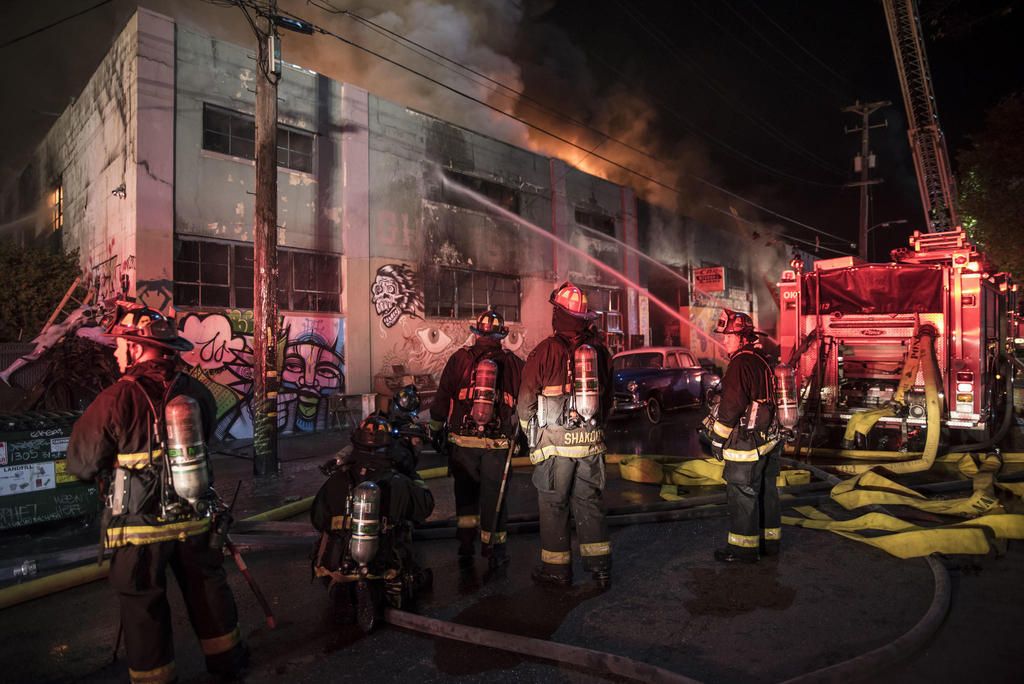 David Butow / Redux Pictures
Shortly after the accident, Gabe Meline, an artist familiar with Oakland spaces of this nature, reflected on the matter in an essay titled, "It Could Have Been Any One of Us":
"In a world that demands its inhabitants to be a certain way, think a certain way, or live a certain way, we gravitate to the spaces that say: Welcome. Be yourself. For the tormented queer, the bullied punk, the beaten trans, the spat-upon white trash, the disenfranchised immigrants and young people of color, these spaces are a haven of understanding in a world that doesn't understand — or can't, or doesn't seem to want to try.
They don't understand why we congregate here at night, pushing salvaged furnishings out of the way to make room for the drum set and amps, packing our friends' bodies in like sardines, moving as one to music that never gets played on the radio. Why we play music here for each other when we could be trying to get booked at "real" clubs. Why we avoid conventional nightclubs and their bookers, bouncers, security, soundmen."
The Ghost Ship fire not only impacted those directly involved, but set off a string of shut downs across the country. Thousands have been negatively affected in some way already, and this episode of Chicago Fire will only make it worse. "A mock funeral for caricatures of my friends on TV," Bateman reflects. "I really wish they weren't doing it."
Cover image via Lucy Nicholson / Reuters