Words by Ryan Mannix // Images via Kristina Bakrevski
Ten years ago, one of the most influential players in San Francisco's indie rock scene, Noise Pop Industries, dreamt up a music festival on Treasure Island in the middle of San Francisco Bay. They teamed with Another Planet Entertainment—the producers of Outside Lands—to bring Treasure Island Music Festival to life with two stages, a ferris wheel (before Coachella adopted one) and a couple of strokes of logistical genius.
Landing on-island in 2007, Noise Pop set each day's bill to a separate sound. Saturday was for dancing, with Cut Chemist, DJ Shadow, M.I.A. and The Thievery Corporation dropping in to shuffle our feet. Sundays, however, would be geared towards the indie crowd. Modest Mouse, Spoon, and Built To Spill plugged into the amps the following day and capped a hugely successful first year.
The festival's other defining characteristic is even more simple—no overlapping music. Instead, attendees found a seamless music experience with acts like Chromeo's Bridge Stage performance in 2011 flowing straight into a set on the Tunnel Stage from Flying Lotus. The moment FlyLo was finished, Cut Copy took the focus right back to the Bridge Stage. Each year, the music lineup flows like this without break or overlap, replacing the fear of missing out with whiplash.
This was the concept that struck Dawson Ludwig most when he joined Noise Pop Industries as an intern eight years ago. Ludwig has since climbed the ranks to Noise Pop's General Manager, now overseeing all of the company's endeavors. "I thought it was genius how they organized that," he said. "I think one of my most frustrating moments at festivals is being at a set but also knowing somewhere else there's something I want to see."
Out of his many years in attendance, Ludwig recalled his second year at the festival with a particular fondness. "Girl Talk in 2010 [was] probably one of the best sets of the festival," he said with an excitement that sounded like his mind was exploding all over again. "[Girl Talk] had just come off Feed The Animals. We had fireworks shooting from the ends of the stage. It was the first time we'd used pyrotechnics. There were a lot of elements that were boiling to a point that felt really special."
The island festival has hosted many incredibly lasting memories like Ludwig's. Often most unforgettable, however, is the festival's finest art feature—the blood orange sun tucking in behind Golden Gate Bridge every night. Sadly though, the festival's tenth anniversary celebration this weekend doubles as a farewell party. Treasure Island Music Festival will be departing the only home it's known, leaving fans biting their nails over the future of San Francisco's favorite boutique festival.
There were a few rumors circulating the early summer months, speculating why the festival might be relocating. Last week, Ludwig confirmed the most prominent of them all with one word: "Development," he told Pulse Radio. "About two years into the festival, the organizers were made aware of plans to develop condominiums on Treasure Island. At any year we were waiting for developers to come knocking at our door and say 'excuse us, we're gonna take the Great Lawn now.' Finally they did...and we're lucky we were able to get 10 years under our belts."
As gracious as Ludwig and the Noise Pop team are, the developers moved at ruthless speeds as soon as the notice was delivered. The construction has now pushed the festival from its home grounds—the Great Lawn—to the southeast corner of the island for 2016, and then off-island altogether to an unknown location for future years.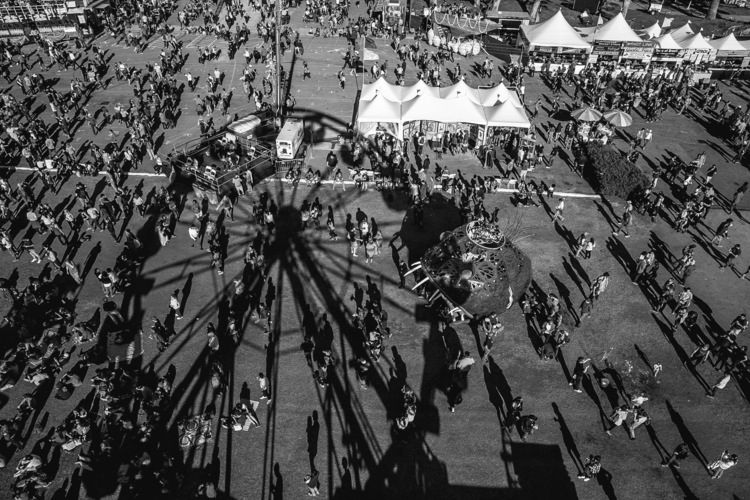 This news further builds on the increasing number of San Francisco venues and dance hubs displaced to make way for housing. In the past two years, San Francisco has seen the doors shut at dance haven The Sound Factory and the salsa club Cafe Cocomo, each to provide new living space. Even the Elbo Room, an epochal bar and venue in San Francisco's Mission District since 1935, has only warded off the same fate until 2018. This most recent loss in SF music scene's battle to hold ground against rising rent prices and gentrification also comes in the same year as huge blows to the international dance community. New lockout laws are threatening Sydney's nightlife and the legendary London dance club, fabric, was also shut down by law enforcement claiming it had become "an environment tolerant of drugs and crime", though many industry insiders speculate that gentrification played a significant role.
As worrisome as this is, Ludwig speaks of the future of Treasure Island Music Festival—however cautiously—with a reassuring optimism that cuts the bite of anxiety circulating this year's event. "We designed the festival with a very clear intention, to be sort of the anti-festival," said Ludwig. "We're working on a 2017 event that offers the exact same experience Treasure Island has given everyone. We're not looking to just put up another parameter and sell some tickets. We want it to be a special event. I can't say too much more, but some really cool things are in play." But with the festival's final year on the island just days away, it's far too difficult to spend much time speculating 2017's possibilities.
This year, Noise Pop has booked Ice Cube, ZHU, and Glass Animals for the headline slots, with Sigur Ros saying the final farewell to the island on Sunday. And though he is most excited—"by far"—for a high energy performance from Young Thug, Ludwig was happy to geek out with us over all the special arrangements planned for the 10th anniversary celebration of Treasure Island Music Festival. "There's actually quite a bit of nostalgia that's going to be baked into this year's festival," he said. "There's going to be a mural wall that has pictures from the last few years. There's going to be giant posters of [past] lineups. We're going to be pulling from previous activations that were used throughout the ten years. For example, in 2007 we had giant clowns walk around that were really iconic. We're bringing back elements [like that], which were iconic in each of the past years, to bid farewell to the island."
You can get tickets for Treasure Island's farewell to the island here.