Manila transforms into one crazy freak show (only that this time it's intentional) for the many Halloween parties around the Metro Area. Since this year's Halloween falls on a Monday, the festivities will start on the prior weekend.
We've listed five dance floors you should check out this Halloween!
Before And After Presents: Hollywood Undead
Malate's new hot spot Before And After is celebrating its first Halloween party and is inviting people to show up in their favorite Hollywood costumes. Music will be served by Italian drum'n'bass purveyor Toro and Dutch DJs Garuda and Dan Bauw. But the highlight of the night will surely be a kinky performance by Manila Burlesque!
When: 10pm - Friday, October 28th
Where: Before And After, Bellagio Square, Jorge Bocobo St. Malate
Check out the official Facebook event.
Today x Future Presents: Film vs Television
Cubao's little living room-style hangout calls out all freaks to dress up as their favorite film or TV characters, and we all know how freaky things can get at Today x Future! The event will see DJ sets by DMAPS, Major Chie, Pam, The Koolaids, Kill Your Boyfriend x Joey Santos, Jazzy Jesus x Jay-Ru, Skeleton Boy x Salad Boy.
When: 7pm - Saturday, October 29th
Where: Today x Future, 7-T Gen. Malvar. St. Cubao, Quezon City
Check out the official Facebook event.
Halloween Porn Ball 4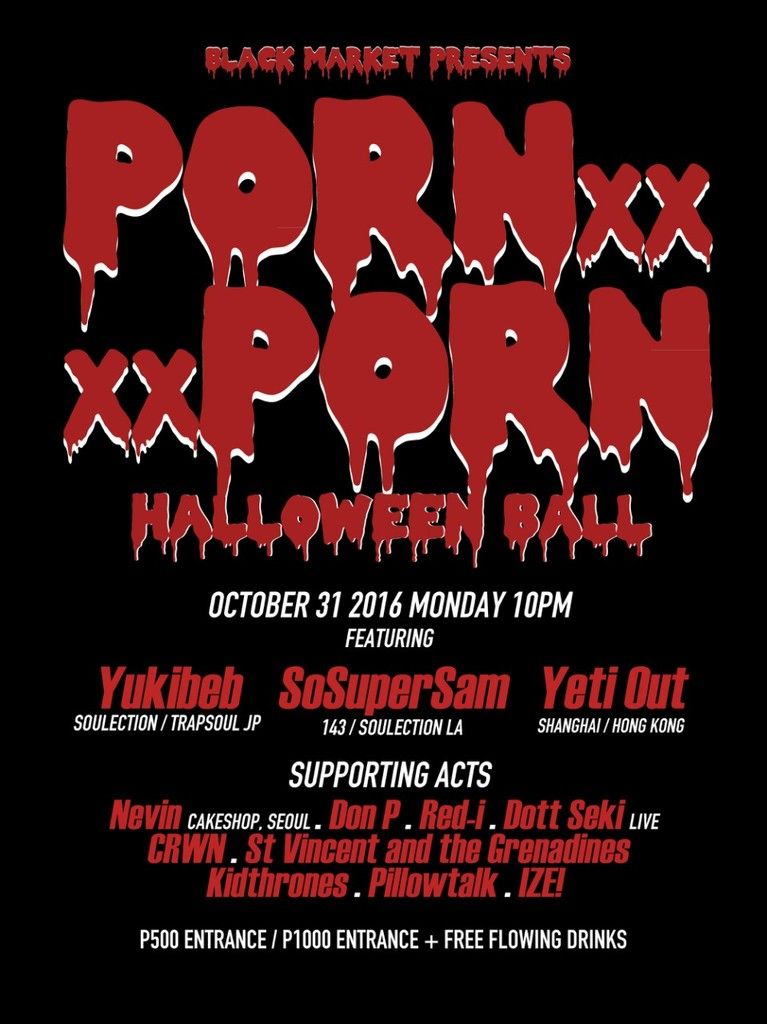 After a massive four year Anniversary celebration a few weeks back, Black Market is hosting its annual Halloween Porn Ball with three international headliners – Soulection's Yukibeb (Japan) and SoSuperSam (USA), as well as YetiOut from Shanghai. With the usual porn theme, you can expect raunchy and sexy outfits! Support comes from Pillowtalk x Ize, Kidthrones, Don P x Red-I with Dott Seki Live, Nevin (Cake Shop, Seoul), CRWN and St Vincent and the Grenadines.
When: 8pm - Monday, October 31st
Where: Black Market, Warehouse 5, La Fuerza Compound, Sabio St. Makati
Check out the official Facebook event.
Straight Outta Hell - A Halloween Dance Ball With Kevin Saunderson
One of house and techno music's greatest innovators Kevin Saunderson will be flying in from Detroit on Halloween to play at Manila's new underground club XX XX for its very first Halloween ball. No description needed, this is a massive booking! Supporting DJ sets come from Nicky J and XX XX residents Mulan and Samantha Nicole.
When: 9pm - Monday, October 31
Where: XX XX, Warehouse 20b, La Fuerza Plaza, 2241 Don Chino Roces Avenue, Makati
Check out the official Facebook event.
TIME in Manila & TERNO Recordings: I Know What You Did Last Halloween
The traditional TIME in Manila Halloween party sees the two Groove Nation DJs Toti Dalmacion and Cyril Yarisantos perform every year. The two are undoubtedly the best house and techno DJs in Manila, with years of knowledge of experience behind the decks. Free entrance for those who show up in a costume!
When: 11pm - Monday, October 31
Where: TIME, 7840 Makati Avenue, Makati
Check out the official Facebook event.
main image via Black Market