Rocking The Daisies have released another exciting portion of the line-up for the festival at the Cloof Wine Estate in Cape Town from 6th - 9th October. This announcement includes the input and a few of the artists from the Beating Heart collective.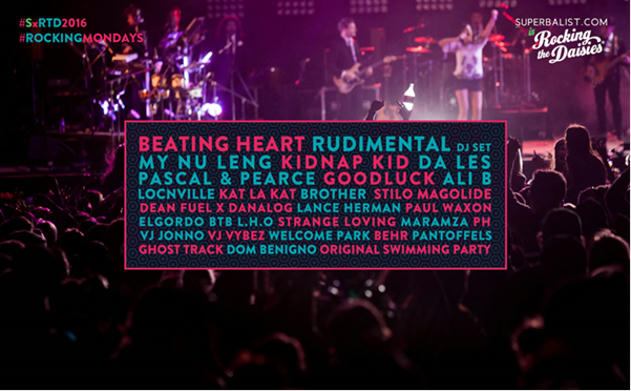 In 1929, when visionary Hugh Tracey travelled through Africa to record African music, he built up a unique archive over six decades with over 35,000 African music tracks. Almost 90 years later, some of the world's best global producers and DJ's discovered the archive and remixed the beats. The result: an extraordinary, uplifting ensemble rich in ambience and tone. This is Beating Heart.
The core of the initiative is grounded in collaboration and connection, with a vision of sustainable culture. The sounds connect artists, communities and institutions from all over the globe and will be introduced to Daisies audiences by the UK's drum and bass group Rudimental (DJ set) alongside the global collective of Beating Heart. Rudimental are known for their explosive live sets and are one of the most recognisable drum 'n bass acts on the planet. Their high-energy DJ set will be one of the best moments of the Rocking The Daisies weekend.
Also joining the ranks are drum and bass, dubstep, UKG and grime duo My Nu Leng, as well as Kidnap Kid. Better known for their dark, dancefloor-ready garage beats, they are whipping up special sets for the Nu World Beat Club, blending their signature sounds with Beating Heart influences.
By remixing these traditional sounds, selected contemporary artists bring them to the next generation, preserving the beautiful and unique sounds of Africa. You can visit the official Beating Heart website and purchase these remixes online. When you buy a Beating Heart remix, you're generating income to assist people in the areas where the music was originally recorded.
Aside from the Beating Hearts collective, RTD have announced British bass and funk DJ and former Fabric resident, Ali-B at the Caribbean Twist Beach Bar. Expect some world-class performances from the likes of Goodluck, Pascal & Pearce, Da Les, Stilo Magolide, Paul Waxon, Dean Fuel x Danalog, Maramza, Behr and many more.
Phase 3 tickets are now on sale from rockingthedaisies.com.
Follow Rocking The Daisies: