"I feel like it's kind of a cliche being a tech guy in the Bay Area, but I really had my first powerful dance music experience in 2008 at Burning Man," Seth Goldstein explains. "I feel ridiculous even saying it - like I'm auditioning for a bit part in Silicon Valley - but I saw Bassnectar early one morning, and it was a completely visceral experience, feeling the music whilst being surrounded by all of these people on the same wavelength. It was incredible."
Goldstein is well aware that he's not the first or the last tech entrepreneur to stumble off the Playa with a newfound appreciation for dance music and the transformational circuit that surrounds it on the West Coast. But his experiences at Burning Man set in motion a storied deviation from his familiar avenues of investment and startups, and sent him headstrong into developing apps and platforms for people to share and engage with music casually.
His current project Crossfader, a cell phone-based remix and DJ platform that uses loops and filters controlled by a gyroscope, has become one of the most buzzed about apps in the App Store, and has slid neatly into the creative gulf that existed for the casual dance music fan that doesn't reside in a major scene or have the cash for a hardware setup.
"My youngest son, who was nine at the time, wanted to learn to become a DJ," said Goldstein, "So I got him a Traktor S2, and had a friend who works for DJ Tech Tools give him a couple of lessons. He didn'tstick at it for too long, but with that interaction, I became very interested in how you can bridge the gap between generations in electronic music."
But Goldstein, who prior to launching Crossfader in 2013 started the editorial platform DJZ and the hugely popular proto-streaming platform Turntable.fm, is quick to insist that he is not trying to create a legitimate DJ tool, but an entry point to engage with the music.
"Look, the last thing we want to do is bastardize the art form. But in talking to our user base we've realized that a lot of them don't have aspirations to use Ableton or Logic. I mean we could try to get someone like Diplo to use Crossfader and Tweet about it, but that isn't his game and this isn't his instrument. We aren't trying to convince anyone that this is a substitute and our audience completely understands that, and appreciates it for what it is."
And it's this approach to the creative process that has endeared the app to so many people. With around 50,000 active users, hundreds of thousands of hours of mixed music, and a core collective of diehard Crossfaders, the app managed to build a community of people that mightn't have otherwise connected over tunes.
"Crossfader did to Ableton what Instagram did to Photoshop. It's giving access to those that maybe don't have the means or the want to go for a professional set up. These guys don't want to be Calvin Harris, but they love the idea that they can come home and remix music casually, and have fun with it in front of 10,000 supportive people online."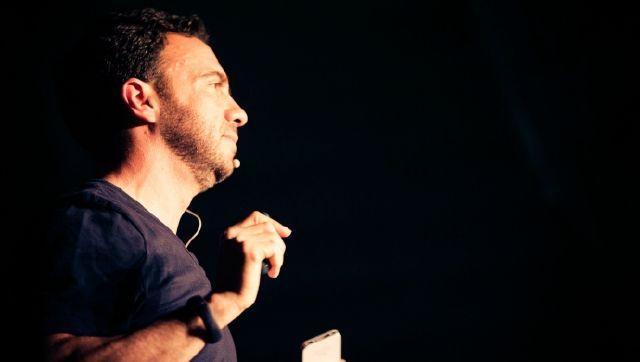 Seth Goldstein [via Silicon Prairie News]
In Turntable, Goldstein had made an early foray into merging audio streaming with social media, and driven by a perspective that modern music listening that was anti-social at its very core.
"The thing with music online is that it is fundamentally isolated," he explained. "Most people listen to music on headphones, and you could argue that the headphone manufacturers have done more to desocialize music than anyone else. I think Turntable was the first glimpse that Silicon Valley got at a truly social form of online music."
Utilizing the notion of a collective playlist, Turntable was an egalitarian online social music platform. In its purest form it can be best imagined as a group of people sitting in a living room and each of them has brought along their record collection, taking it in turns to play one song after another. "We found that rather than your standard online music platform with playlists and what not, this was a collective experience where people would choose their song based on the one that had just played," notes Goldstein. But the problem with Turntable, like many of the quirky proto-streaming platforms, is that it was a tad singular in its approach, and Goldstein admits that despite the incredible response to the platform, it had no "leanback" aspect i.e. it required the users' constant attention.
But the interactive, collaborative and social elements of Turntable would become core attributes of Crossfader, and the connection between users across the world seems to be the element of the business that Goldstein is proudest of. He tells me about the factory worker in Japan that comes home and uses Crossfade for hours every night, contributing mixes and engaging with the Slack community they have built. Or Charlie aka DJ, I Am Legion from Glasgow, who is one of the apps most prolific users and one Seth considers one of Crossfader's flagship artists.
Originally they were going to develop all of the functionality that came with a professional controller setup, but they quickly realized that app benefitted hugely from the simplicity of being merely a crossfader between two tracks. And that was when the core concept of being a sort of Fisher-Price gateway to DJing was dropped in favor of creating something considerably less fraught with potential problems, and much purer in its essence.
Goldstein admits that Crossfader goes against a lot of his capitalist-informed spreadsheet intuition, and has been a labor of love since it launched in 2013. But it's obvious that this outlier community that many of us in the club and festival scene would never know existed is a creative and social outlet for a lot of people. Seth signed me up to the Slack channel so I could get a feel for the kind of conversations that go on amongst the apps most dedicated users. I was immediately rattled with scores of notifications, mostly connected to loops and mixes being shared and discussed, but all communicated by the bizarre and irreverent dialect of the nitzen community. It was really fun observing another vibrant and peculiar sect of dance music culture, particularly one completely liberated from the trappings of image-driven hedonism and purely focused on music and socializing.
You can download Crossfader for IOS.