In its fourth year running, Cape Towns Sizzled Summer Music Festival has gone from strength to strength. What started out as a collective of passionate DJs playing music at the shiza nyama (Barbecue) spot, Amadodas in Woodstock, developed to be a greatly attended and successful hub of Cape Town music culture. As the event is solely based in summer, the "Sizzled Chefs" have started Sizzled radio, a podcast to keep patrons entertained throughout the cold winter season; the first of which is complied by Cape Town bass house DJ, Harvey Dent. Pulse chatted with Sizzled Co-founder Chad Naidoo, to dig deeper into the ideology that brought this authentic Cape Town music festival to life.
How has the journey been for your summer music festival? The journey so far has been altogether exciting, tough, stressful and also a huge learning curve. But to the bigger extent the journey has been a great big adventure meeting new people and working alongside so many talented music purists to achieve one common goal.

Why did you start Sizzled? It was created for one sole purpose to play music we love and enjoy and for others to hear it. That purely much was the ultimate reason to share our passion and love for the music art.
Which are the stand-out performances you have seen at Sizzled over the years? A few performances & Acts that really stood out over the years are Leighton Moody, SamWorld, The LazarusMan, TerraSoul, GraceTown, Ruth J and Nate Laurence(USA). But particularly last year we hosted a milestone as we celebrated our 3 Year Anniversary on two dates in one month. There was an energy and appreciation for the music unlike I have ever witnessed before at Sizzled. Leighton Moody finished off his set on an extreme high, and we all thought the night was made; as we all know Leighton Moody is one tough act to follow.
Next up comes the artist named as TerraSoul, the rest is history, I would say SIZZLING magic happened that night. It was intense as he elevated every single person to a new high. I will never forget that performance. It was his knowledge and passion for music and experience as well that took it to the next level, a higher level. Another highlight performance was seeing The Lazarusman live alongside Leighton Moody, for a whole two hours; the audience were amazed, astonished and truly fulfilled. It is performances like these that I have to say are the highlights for me personally, as it gave us the surety to know we gave the most important people what they needed, which is the supporters.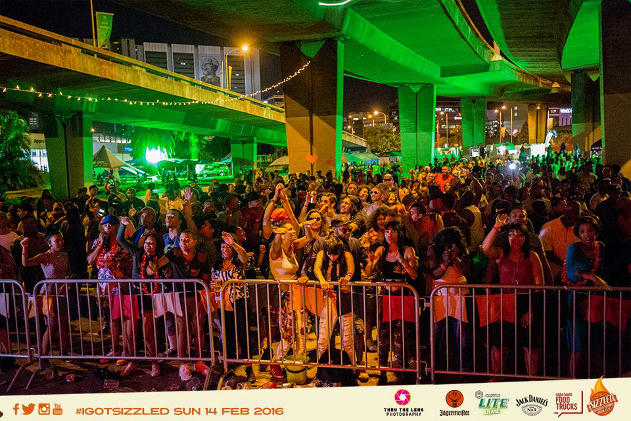 What are the future plans for Sizzled? In all honesty, to continue to grow & to aspire to give all talented & passionate music artists the platform we built from the ground up to come and expose their talent and skill. It's all about the music, It's out of our love for music that we have grown through the years, and we will never forget that is the main reason and factor why we do what we do. We will continue to push the envelope & work hard to build a bigger and greater appreciation for the music we love. To entertain and to expose the music art is our sole mandate and to do it with our own Sizzled flavour is what we are determined to strive towards.
Although no date can be confirmed at this point, Sizzled will be returning in the Summer season; bringing together the best local music Cape Town has to offer.