In an effort to both enrich the minds of aspiring music producers and at the same time raise funds to help dogs in under-serviced areas, Ryan Murgatroyd has put together a 4-day course on the basics and intricacies of sound and music production; available for all to attend.
The course will cover music theory, groove programming, analogue synthesis, arrangement and many other tips and tricks to get the best out of the music production process. Everyone from the complete novice to the master engineer will benefit greatly from the extensive course and will leave with mounds of knowledge and carefully devised notes to help you on your journey in music creation.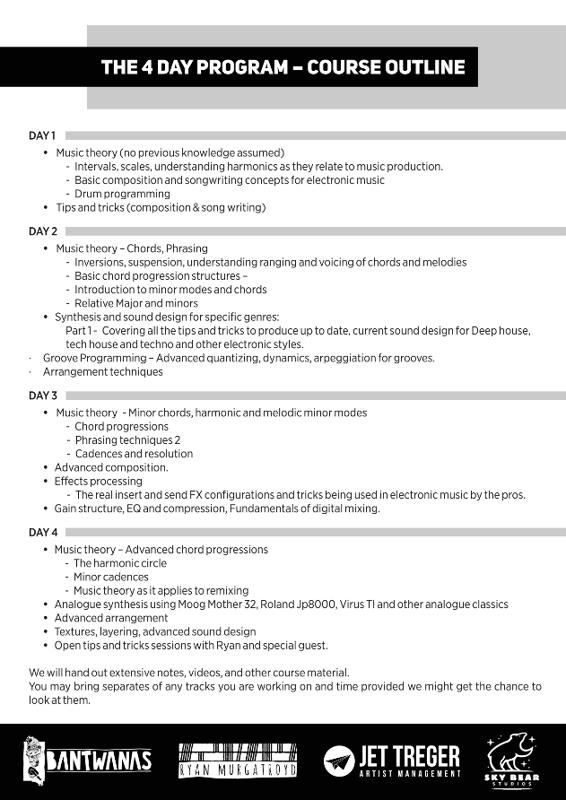 The workshop will be raising funds for the PETS Organisation based in Johannesburg and will help facilitate free veterinary care, housing, food and other services to empower stray animals in townships around Gauteng.
To further enable those who are eager to make music, Bantwanas have introduced four bursary opportunities across the beginner and intermediate courses in Johannesburg and Cape Town. Applicants must have put time and effort into music production and will only be selected if they cannot afford the course.
As for Ryan Murgatroyd, he needs no introduction when it comes to studio work and has solidified himself as one of the best producers of house music in South Africa. With a catalogue that spans around 15-years, he is the epitome of an accomplished electronic musician.
To apply for the Bantwanas Bursary click HERE.
Follow Ryan Murgatroyd
Follow Bantwanas

Follow PETS
For further enquiries contact Jet Treger Management