In just seven years Interscope records head honcho Jimmy Iovine and hip-hop tastemaker Dr Dre have turned a seemingly simple headphone branding exercise into a $1 billion-plus business – and here is how they did it.
Together with newish President and former Interscope exec Luke Wood, the trio took a hot product and made it scorching; taking a 70% share in the headphone market along the way.
READ: Beats by Dre rallies celeb troops to launch new monitors
And while the headphones cost you the customer between $100 and $500 a pair, it costs Beats a mere $14 to make according to some experts. It may be in line with other types of tech, which have similarly high profit margins, but coupled with the marketing tactics employed, Beats by Dre had consumers over a barrel from the very beginning.

Just last month, Beats headphones were ranked second worst in a list of 18 products based on sound quality with industry standard bits from Sony, Audio-Technica, Sennheiser and Pioneer all placing much higher. Even ABC got in on the act releasing this damning video:
READ: The best 5 headphones for under $100
Now the company's product portfolio reaches far beyond a simple red and black headphone. Beats Electronics has introduced portable and wireless speakers, co-branded smart phones, a streaming music service called Beats Music, ear buds as well as a slew of sideshow products such as T-shirts and so forth.
The lightning-fast marketing and an invincible hold on pop culture coupled with large scale investment and celebrity endorsement saw Beats Music and Beats Electronics sell to Apple for USD$3 billion in 2014; consisting of a purchase price of approximately USD$2.6 billion and approximately USD$400 million that will vest over time.

Lovine and Wood revealed to Inc magazine how they did it upon their Apple sale last year. These are the 8 steps they took to fool consumers into buying their products and the marketing ploys they used to take over the world.
#1. They found the golden niche
"You've got to be lucky enough to identify a problem where you think you can help," Iovine explained, saying that back in 2006 he identified early industry problems in sliding music sales and sound degradation due to Apple's plastic ear buds.

"Apple," he said, "was selling $400 iPods with $1 ear buds. Dre told me, 'Man, it's one thing that people steal my music. It's another thing to destroy the feeling of what I've worked on.' ". So Apple was to become both a problem and a solution.

"Steve Jobs was the first to marry technology directly with popular culture," says Iovine. "I thought, Wow, technology is the new artist." And so the pair set out on making a marketable product that would have all the attributes of a real life music star.

"I'm going to make a beautiful black object that will play it back. Dre and I decided to market this product just like it was Tupac or U2 or Guns N' Roses."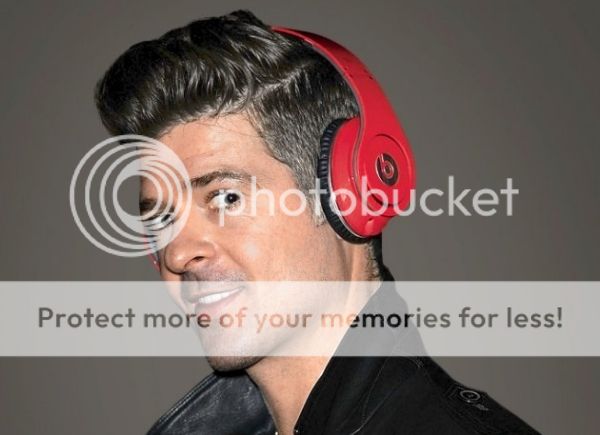 Robin Thicke wearing Beats by Dre
#2. They Ignored the critics and naysayers
"We got dumped on by audiophiles on Day One," says Iovine. Beats headphones weren't tuned evenly, like the usual high-end headphones. They were tuned to make the music sound more dramatic."

But sceptics also wondered why anybody would pay $200 for headphones when you got the ear buds for nothing. "I was like, 'Bad audio is free,' " Iovine says. "When you believe in something, the last thing you say to yourself is, Well, no one's doing this, so there must be no good reason to do it."
Beats by Dre is the Nike of the headphones
#3. They pulled on the biggest celeb names they could find
Iovine says that he drew on the hordes of artists coming in an out of his studios and asked their opinions. "M.I.A. or Pharrell Williams or Gwen Stefani or Will.i.am would come around, and I'd ask them, 'What do you think of this one? What about this? What about that?' " says Iovine.

As he and Dre prepared to launch Beats, a pair was strategically sent to Baketball star LeBron James. Iovine had been hanging out in the editing room with James's friend and business partner Maverick Carter during the development of a documentary on the basketball star.
LeBron later asked for 15 pairs. They subsequently turned up on the ears of every member of the 2008 U.S. Olympic basketball team when they arrived in Shanghai.
Nice for them.
Will I Am wearing Beats by Dre
#4. They looked at what consumers wanted, then made it
"When we look at marketing for our year ahead, we don't look at what products have the best margin or which ones sell best--that's detrimental to progress and innovation," says Wood. "We ask, 'What do we think the consumer should learn about?' "
Thus spawned wireless headphones and Bluetooth versions alongside the ever-popular ear bud.

#5. They trusted their gut and risked it all

"I always go back to my experience in the music business," says Wood. Today, as then, Wood looks for the "tug", that pull on the heart and brain that lets you know you are onto something. Back in the day it could have been an album, an artist look, even a demo - now that tug covers branding and products.

Beats rolled out more ads, including one featuring a press conference with outspoken Seattle Seahawks cornerback Richard Sherman and when he started talking trash about his opponents in the postgame commentary, gave Beats the world's attention.
Beats were firmly part of a clever product placement campaign - but nobody ever noticed it as such.
Katy Perry wearing Beats by Dre
#6. They moved fast
When Iovine heard Robin Thicke's 'Blurred Lines,' he jumped on the potential hit, bought the rights to use the song for use in an ad and reshot the video.

The Sunday before Black Friday back in 2012, Will.i.am approached Beats after recording a track with Britney Spears. He said it would make a good ad. Within 72 hours, Beats re-cut a new Black Friday ad alongside the song, which played during Thanksgiving football games.

I wonder how much exposure that was worth?
Lady Ga Ga wearing Beats by Dre
#7. They had BIG brand help
Co-marketing deals with big brands are key to Beats success. They have put their tech in everything from HP laptops to Chrysler 300s to HTC cell phones--and Beats has enjoyed plenty of the big guys' marketing muscle along the way.


David Guetta wearing Beats by Dre
#8. Don't get cocky, never think you are done

Even if beats are still leading the market, strong competitors are surfacing too. From Skullcandy Roc Nation Aviator by Jay-Z; Soul by Ludacris, or 50 Cent–Sync by 50, everybody is getting in on the act.
Just make sure you are getting what you paid for, not what you were played for.