Sheik 'N' Beik is set to take over Up & Down, a swanky new venue in New York's Meatpacking District, on Friday, May 2nd for a night of shenanigans set to a musical soundtrack provided by Julio (celebrating his birthday), special guest Pako S, and Jeffrey Scott, Holosound, and FoNG. Ahead of the party, Sheik 'N' Beik residents Jeffrey Scott and FoNG sat down together for a little chat about becoming part of the Sheik 'N' Beik brand, some of their highlights from past events, what they've been up to, some dream gigs, and their favorite places to grab a drink and a bite in New York.
Jeff: How did you find yourself working with Julio and Sheik N Beik?
FoNG: How it happened was kind of a natural progression. I was playing at an after party for the Biatch Corp. Crew during the Minimoo Festival back in the day. I met Julio at that party as I was playing after him. He invited me to play at one of his infamous parties. I played and I became a resident right then and there. The rest has been a hell of a ride.
FoNG: What about you?
Jeff: Some of my friends were attending their parties and I went along for the ride… I met Julio through musical similarities and we started to play together.
Jeff: What are some of your stand out moments from past events?
FoNG: One of them was the Sheik 'N' Beik 5 Year Anniversary party, where the musical synergy was on point. Another one was back in the day when we threw a warehouse party with Guti and Lee Curtiss with just people we knew there.
FoNG: What have been some of your highlights?
Jeff: The Johnson Ave. warehouse art space in Brooklyn. I don't know, it was darker and the vibe was right.
Jeff: What are some of your inspirations musically, culturally, and artistically?
FoNG: Musically, there are too many to even name. Let's just say that I draw inspiration from all musical genres. I get inspired by the phat beats of hip-hop, by the strings from classical music, and the emotions from indie music. En fin todo. I love to experience the cultures of different countries through their food. It's amazing how something so simple can transport you into another state of mind. Especially sauces. I love sauces.
Artistically, my friends. I see what they are doing and it just pushes me to work harder and get better at my craft.
FoNG: What about you?
Jeff: With any of these categories there are so many possibilities… Musically, I just want something to tickle my ear, culturally, it's the passing of something through the spirit, and artistically, it has to strike the senses.
Jeff: What have you been working on lately in the studio?
FoNG: I'm currently working on some of my harder stuff that I want to release, but in the immediate future I have a scheduled release with Sheik 'N' Beik Records, which will contain a housier side project that I have with a good friend, under the alias Dirk Largo. It's all finished; it just needs to be mastered.
FoNG: What have you been up to?
Jeff: I have a release for Sheik 'N' Beik, and I have been working on other musical ventures so we will have to see what's around the corner.
Jeff: Are there any artists you've been watching lately?
FoNG: The first that comes to mind is Koze. I love the emotion he injects into his music. I'm a sucker for emotion. Also my good friend Braiden S. is such a groovy musician especially with his bass. He is my secret weapon.
FoNG: If you're not in the studio or playing music, where can we find you?
Jeff: Making a salad in my kitchen.
Jeff: What other brands in nightlife music do you think are doing a kickass job?
FoNG: Output. I like the variety of musical content that they offer.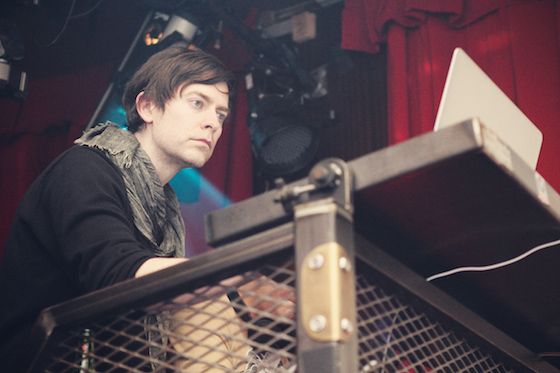 FoNG: Liquid soap or hard soap?
Jeff: I don't use soap... I use oil.
Jeff: What can people expect from you at the party next weekend at Up & Down?
FoNG: I'm totally going back to my harder side of DJing and using vinyl again.
FoNG: What would you say is your favorite city?
Jeff: The town in Denmark where they kill dolphins, because it looks like a happy place.
Jeff: What about some of yours? Any on your bucket list?
FoNG: My favorite that I've visited are Barcelona, Bavaro, Berlin…I want to see Sydney, Moscow, Tokyo…
FoNG: What are some of your favorite spots to grab a drink or bite in New York City?
Jeff: Vezzo, M Noodle, and Kickshaw.
Jeff: And you?
FoNG: The Golden Unicorn in Chinatown.
Jeff: Which have been some of your favorite clubs to play and which do you hope to play soon?
FoNG: My favorites are Output, lots of warehouses in Brooklyn, and in the Dominican Republic with the Shaveurlegz and Onda Sonora 28C crew.
I would love to visit and play at Up and Down this coming Friday!
FoNG: Any thoughts on current affairs?
Jeff: Yes. Things seem a little upside down in the universe and it would be nice to see people better taken care of in the world arena. When the morning comes and you leave the club, there is still the world to take care of.
Jeff: If you're not in the studio or the booth what might we find you doing?
FoNG: Enjoying the great variety of food in New York City… and working on ideas with friends.
FoNG: What's next for you?
Jeff: I will be playing with the Sheik 'N' Beik crew at a place called Up & Down in NYC. Let's see what's in store...